When ordering from Easy Badges, these HID 0008L proximity cards will be programmed to your specifications making them compatible with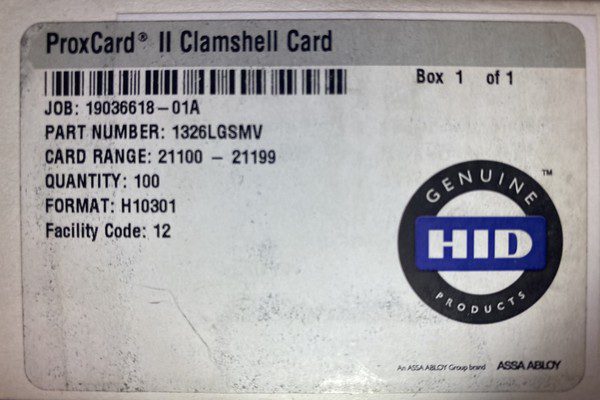 your access control system. The standard and most popular HID format is the 26 bit format: H10301. Most door access control systems use this format, but not all. You will need the Format, Facility Code, and Card Range for ordering new cards. If you are unsure of your programming details, your previous orders information can be found on the HID box your cards came in.
If you don't have the old box handy, email us for a test card so we can determine the programming needed. If you know your organization requires cards that are not the popular 26 bit H10301 format don't worry, call or email us. If the H10301 format is your format, the facility code and ID card range information can be added to the "Order Notes" on the last checkout page. If you forget, you will be contacted by us for that information.
The 0008L part number series is the printable version of the standard HID proximity cards. These cards are also know as the 1386LGGMN card.  LGGMN portion of the part number is called the configuration. Each letter gives information on how the card looks or features of the card. Here is a brief overview of what each letter means in the configuration. See the 1386 Ordering Guide in the Documents and Downloads tab for the full details.
L- Programmed- this should always be the case when ordering
G- Card Front- Plain White PVC w/Gloss Finish- This still includes the card range number written in black (if M is selected below as well), the small blue HID logo, and the 3 dots indicating where it is safe to slot punch the card.
G– Card Back- Plain White PVC w/Gloss Finish- The standard and most popular backing.
M- Card Numbering- M means that the external number is printed on the card and matches the internal card range number. This is the standard HID configuration.
N- Slot Punch- N means there is not a slot punch. There is still 3 indicator dots on the card to indicate where slot punching can be done safely later. It's safest to slot punch the cards after printing with a desktop ID printer to avoid possible damage to the expensive printhead in the ID printer.
All proximity cards are programmed on the 125 kHz proximity frequency. If they are another frequency, they are likely a Smartcard or another type of credential.
The most common proximity format is 26 bit H10301. There are also a variety of other formats. Contact sales if you are unsure of your required programming information.
HID 0008D ISOProx II prox cards are printable on standard desktop ID card printers.
CR80. Standard credit card size. 2.125″ x 3.370″ x 0.030″
Due to the custom programming nature of card programming, Easy Badges can not accept returns for this item.